Silence-H100 Medical dental aerosol suction system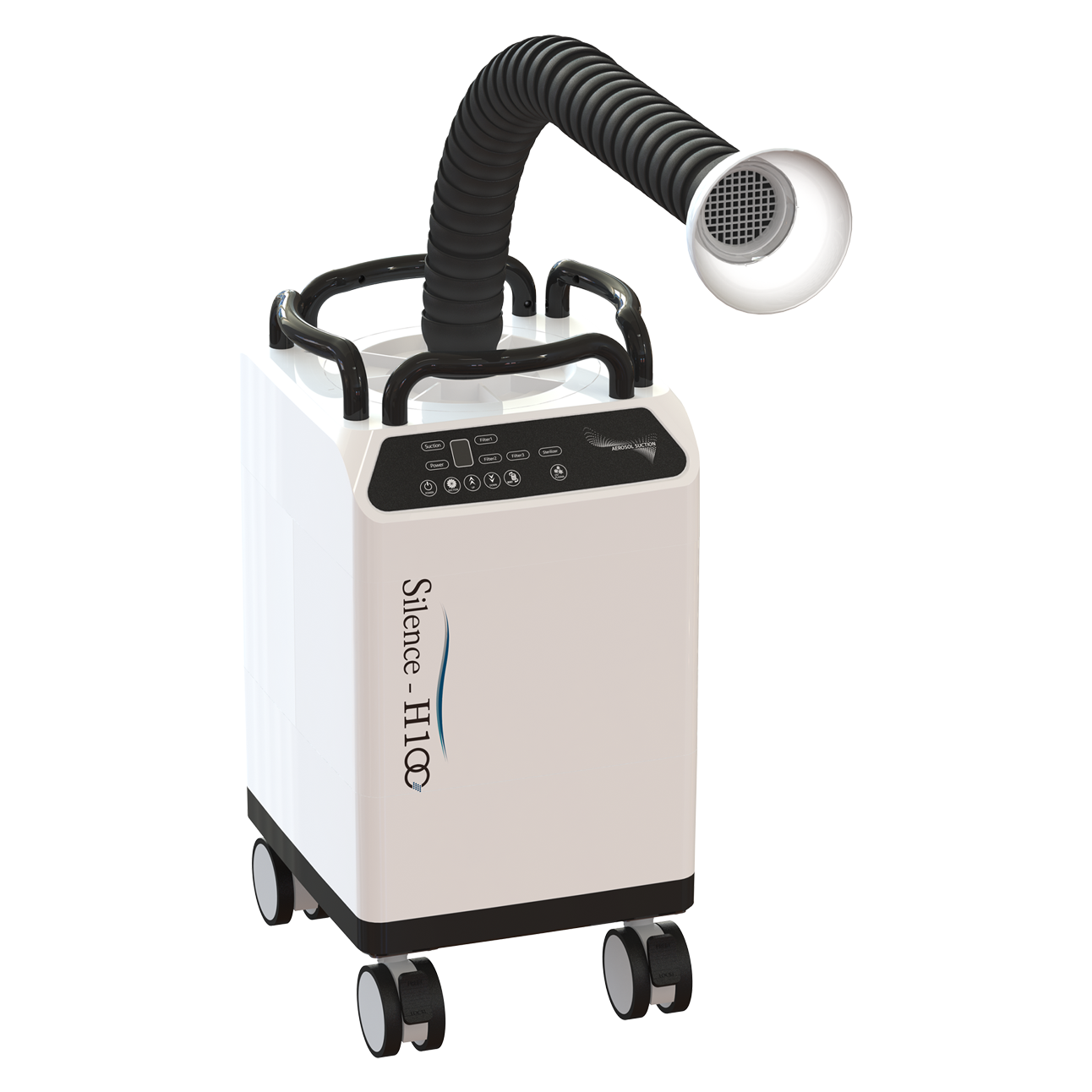 ---
CERTIFICATIONS
---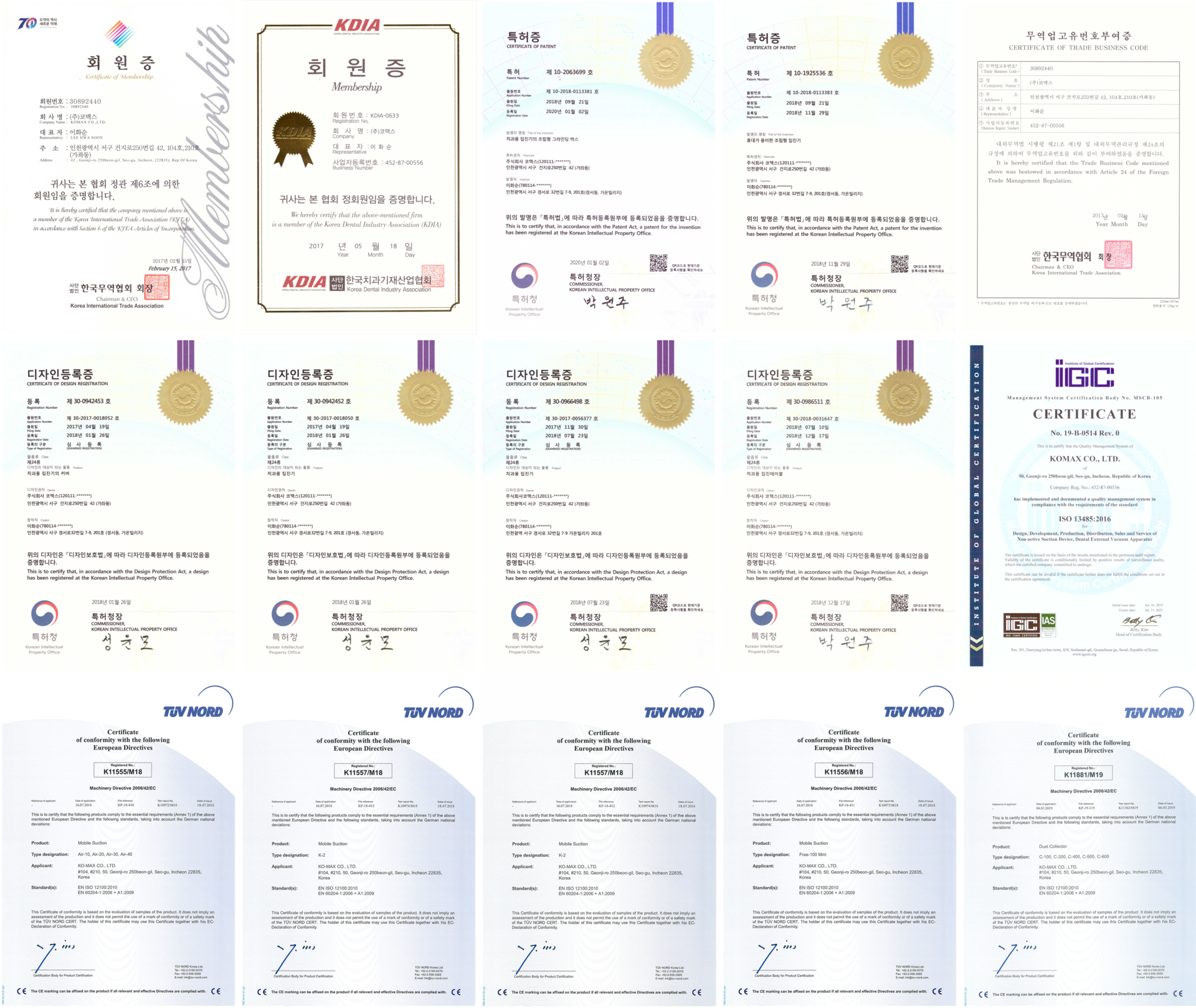 ---
Product
---

Extraoral Vacuum Suction
Silence-H100 belongs to the extraoral vacuum suction series.
It is a device that minimizes contamination of indoor air by sucking in aerosol particles or small water
drops when using a high speed handpiece or doing scaling. It also comes with a sterilization function.
It is equipped with a noise silencer.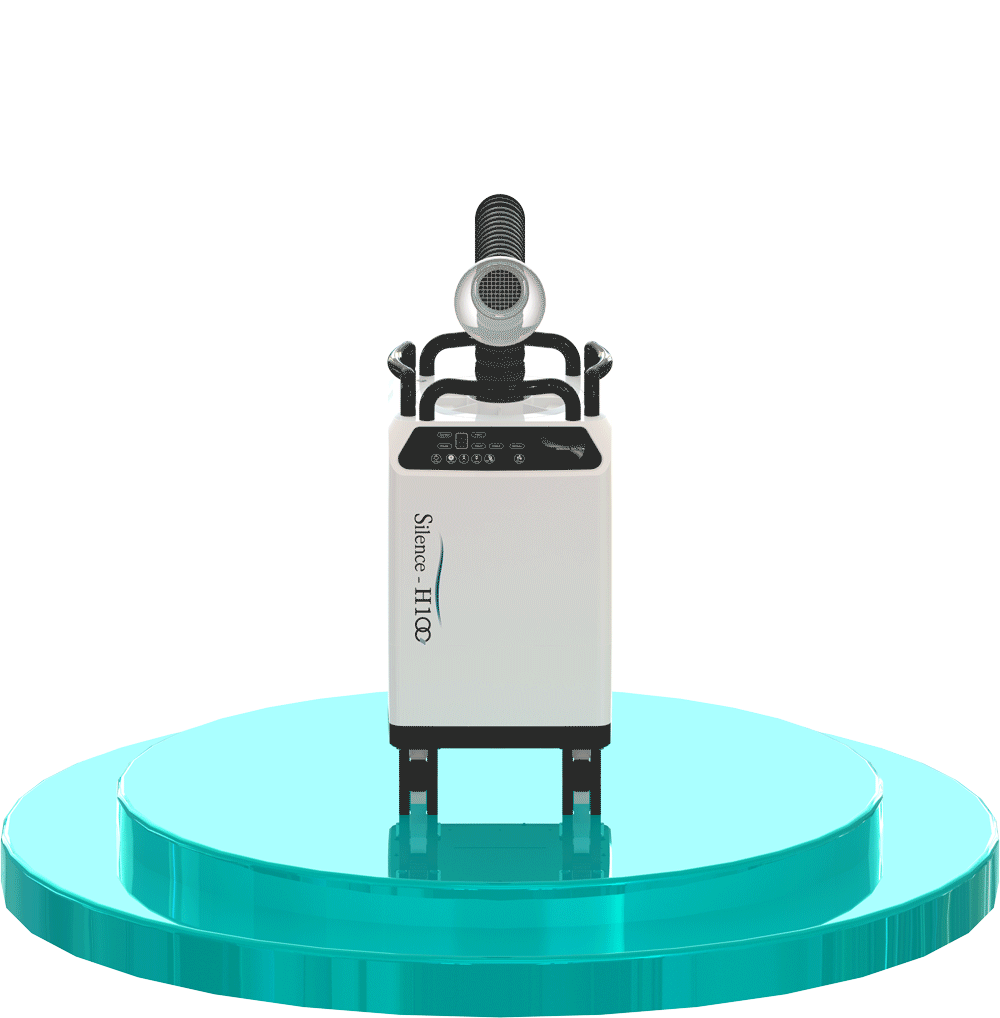 ---
Specifications
---
Description : Dental extraoral vacuum suction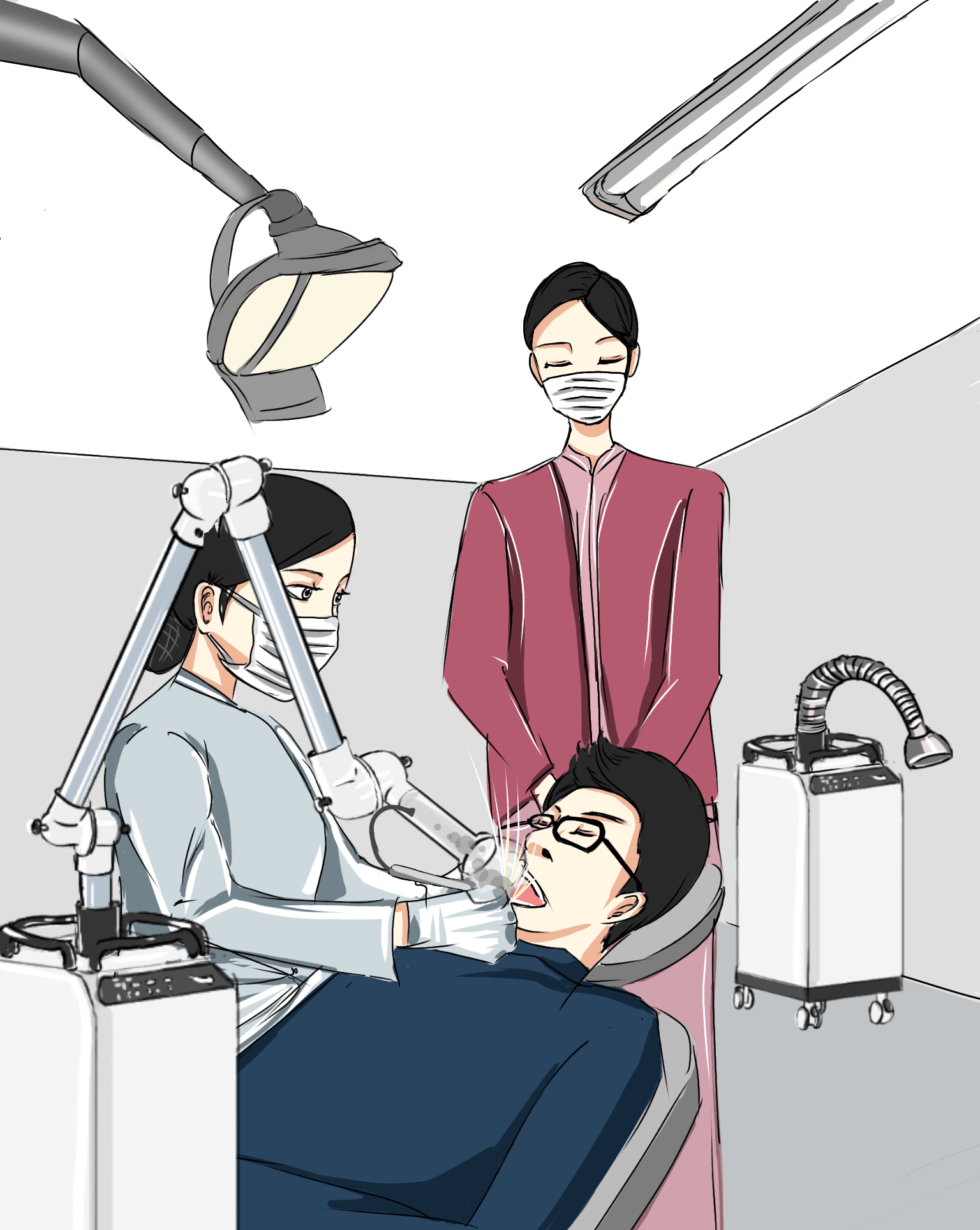 Materials : ABS,PP, PETG, Aluminum
Power supply : Single phase AC 220V~240V 50~60Hz
Single phase AC 100V~120V 50~60Hz
Output power : 1247W〔120V〕, 1251W〔230V〕
Current(A) : 120V〔10A〕, 230V〔5.2A〕
Air flow : 3.98m3/min〔HEPA〕, 3.74m3/min〔ULPA〕
Air pressure : 23.7kpa〔230V〕, 25.2kpa〔120V〕
Control mode : step 1~9
Filter : 1st filter〔Medium filter〕
2nd filter〔ULPA filter〕 99.9995%〔U15〕
3rd filter〔Carbon filter〕, 4th filter〔Noise block〕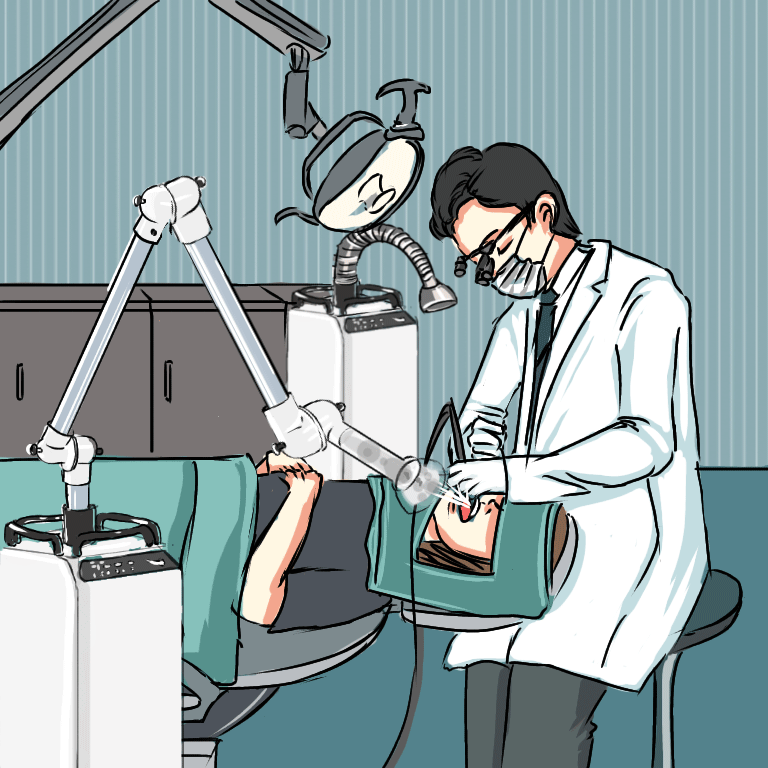 Noise level : approx.45~65dB
Motor operating temperature : 0~40℃
Flexible hose length(H type) : 1,200mm

hose weight : approx.1.3kg
Body size : 295〔W〕*330〔D〕*580〔H〕mm
Body weight : approx.11kg
Product components(A type): Main body, 3 joint arm, power cord, 4 kinds of filters, O hood &Aluminum hood, 1st spare filter, Plasma ionizer, UV LED lamp
Accessories : L Cap, U Cap
[Extraoral suction]
When using a high speed handpiece or doing scaling, a lot of moisture, smog and aerosol particles are generated. Do you know how many aerosol particles contaminate the room?
Aerosol particles adhere to the bodies of dentists or hygienist during treatment. Also, aerosol particles can contaminate the air conditioners, and it affects the respiratory systems of the patients.
Aerosol particles are very dangerous because they contain blood, saliva, viruses and other foreign substances.
It can be dangerous if an extraoral suction is not used.
There is a very big difference between using and not using an extraoral suction. During treatment, microscopic water drops fly away in the form of aerosol particles.
Make the change, for the health of doctors, hygienists and patients.
Silence-A/H suck in moisture, smog and aerosol particles with its powerful suction power to create a clean and pleasant treatment room, and keep it that way.
[Various extraoral suction ]
Komax manufactures a variety of extraoral suction products. We currently manufacture mobile types such as Slience-A100, Silence-A200, Silence-H100, Silence-H200, and so on.
[Super filtering system]
The 1st filter (Medium filter) filters out contaminants and moisture. The 2nd filter, super bio filter (ULPA) catches various viruses or ultra fine dusts. Its filtration efficiency is 99.9995%(U15). The 3rd filter purifies the air before emitting it out into the room.
[Plasma ionizer & UVC LED lamps]
Equipped with a safe and certified plasma ionizer to meet customer needs, it kills viruses.
In addition, it is equipped with a durable UVC LED lamps for medical use to eliminate viruses and harmful
foreign substances.
[3 joint arm - A100, A200 model]
The 3 joint arm consists of three-stage joints for user convenience. It is possible to rotate the arm or adjust the position of the arm for the doctor's convenience during treatment. Also, various suction hoods can be used depending on the type of treatment.
[Noise silencer]
Silence-A/H are equipped with a noise silencer inside the suction for a comfortable treatment room
[Medical caster]
Silence-A/H are equipped with an advanced medical casters for the user to move it freely and conveniently
---
Silence principle
---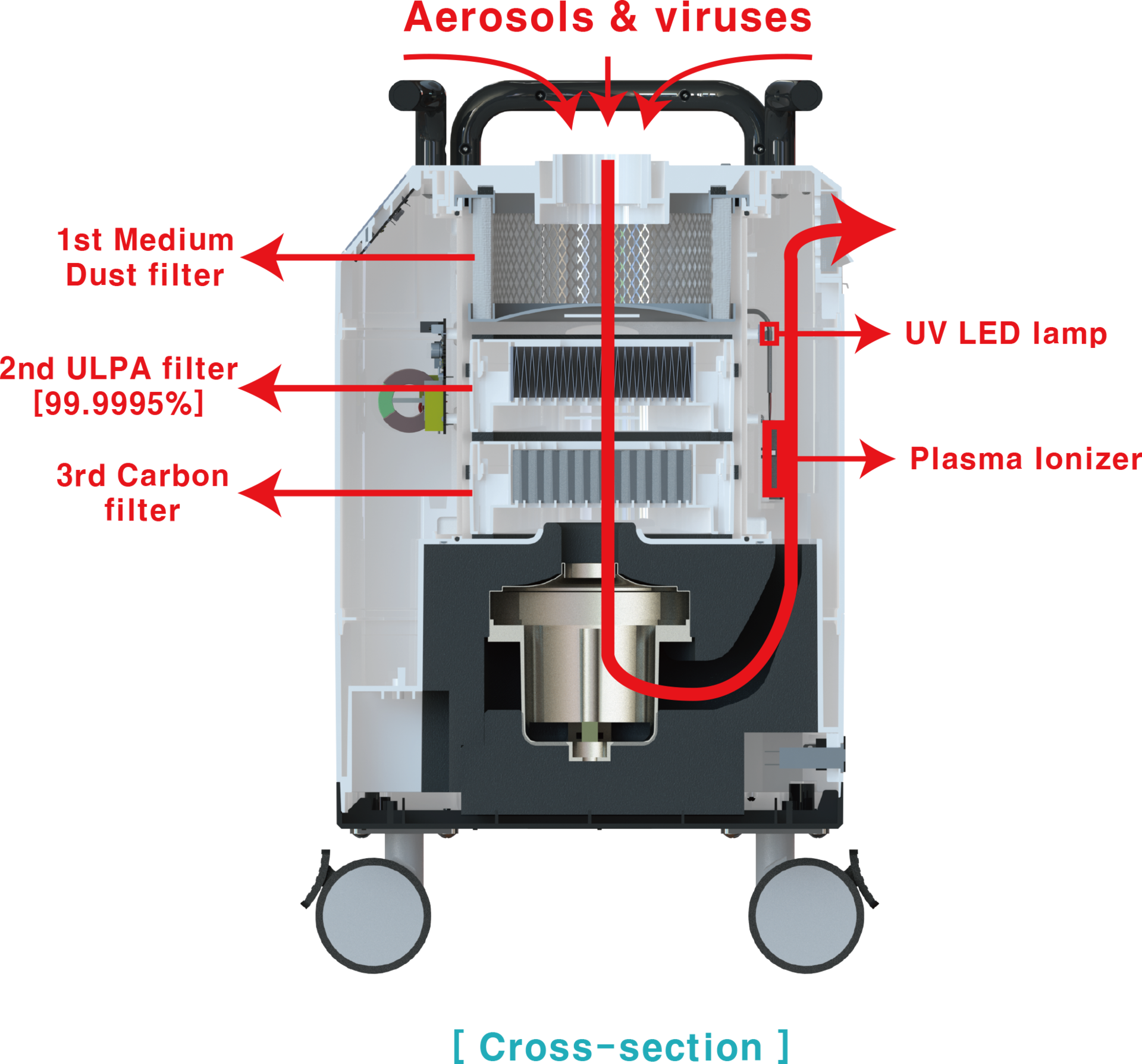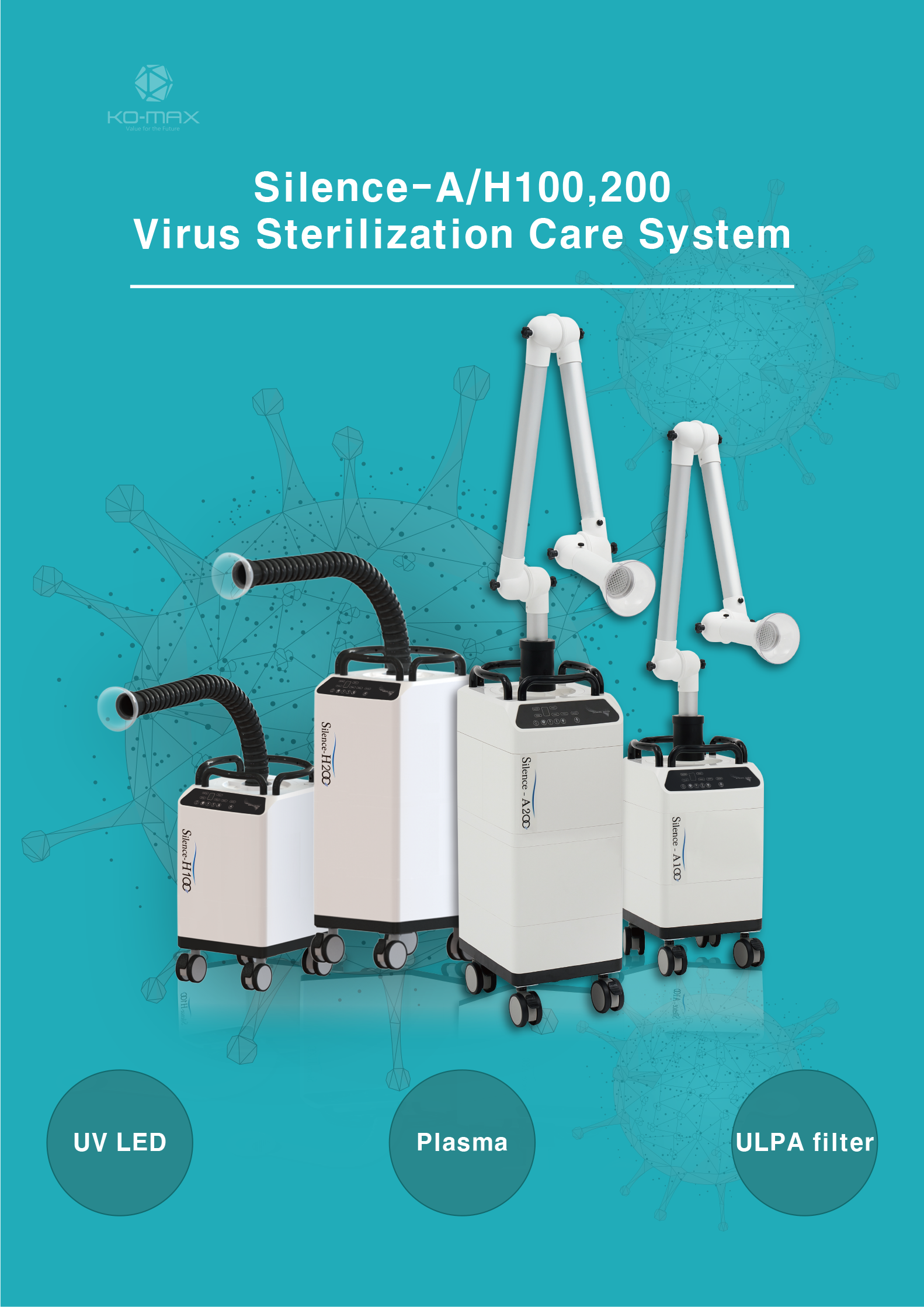 ---
Plasma Sterilization Principle
---
[Basic Principle]

•When the airborne water molecules are decomposed by applying a high low pressure on the positive and negative sides, the water molecules (H₂O) are decomposed into H+ and anion 2O-.
•The highly reactive Free Radical (2O-, OH-, HOO-etc) is adsorbed in the air by harmful substances such as viruses, germs, and fungi, and the electrons are removed to return to the water molecules to remove harmful substances.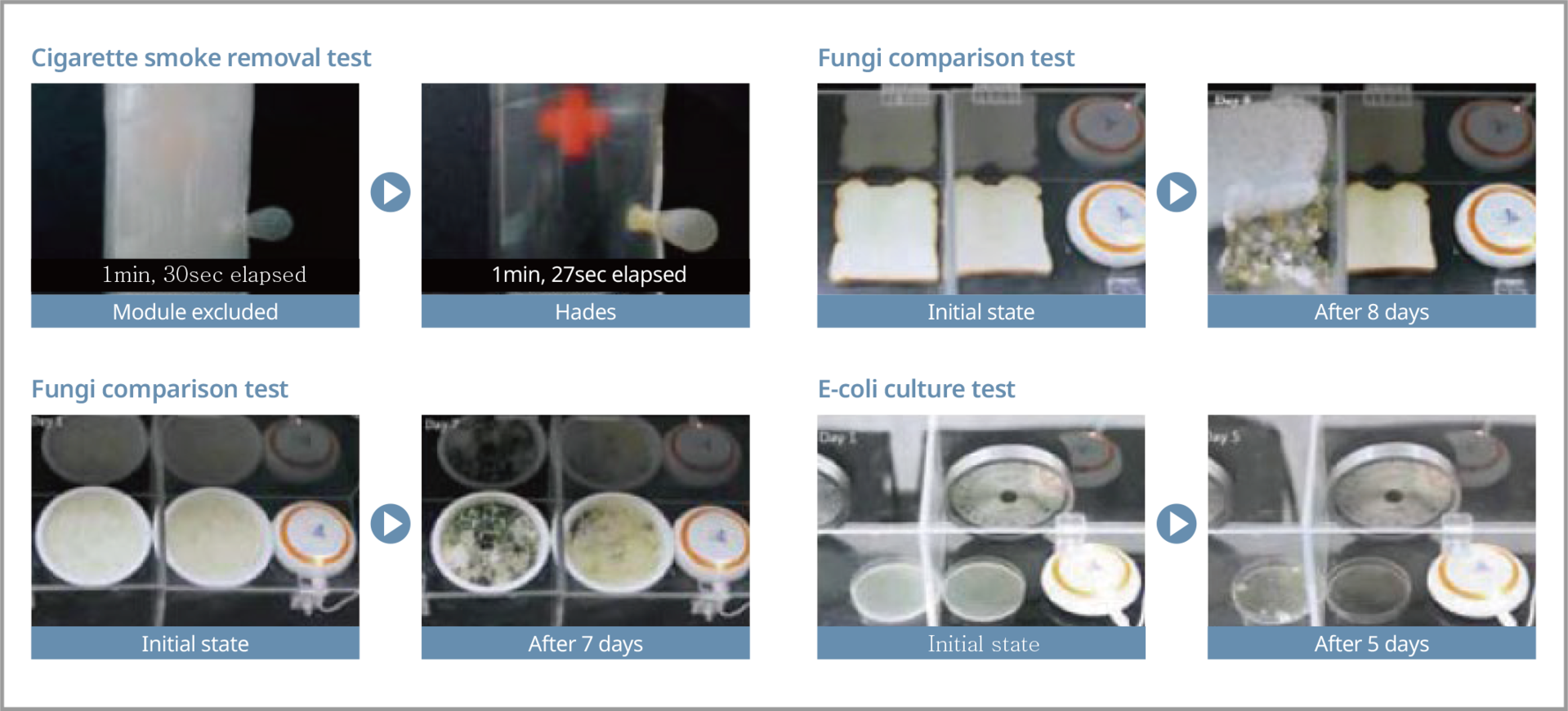 ---
Plasma Test Report
---



Contamination Source

Effect

Verified by

Anti-viral
Influenza A virus (H1N1)
99.2% removal
Kitasato Univ. (Japan)
Feline calicivirus
97.2% removal
H5N1 Influenza A subtype
99.9% removal

Microbiotest (USA)
H7N9 Avian Influenza
99.9% removal
Human coronavirus
* Similar to SARS & MERS
99.9% removal
Zika virus
99.9% removal
Anti-bacterial
E-coli
99.8% removal

Korea Conformity
Laboratories (KCL)
Bacillus pyocyaneu
99.8% removal
Staphylococcus aureus
99.9% removal
Anti-odor
Ammonia (NH3)
100% removal
Toluene
100% removal
Benzine
100% removal
Formaldehyde
100% removal
Sulfur dioxide
99.5% removal
Nitrogen oxide
99.5% removal
Completeness
Level of ozone generation
Under recommended indoor
standards
Korea Institute of Machinery
and Materials (KIMM)
Inhalation toxicity
Safe (Test animals analyzed
after inhaling for 4 weeks)
ChemOn Non-Clinical Research
Institute
---
UV LED Sterile Field
---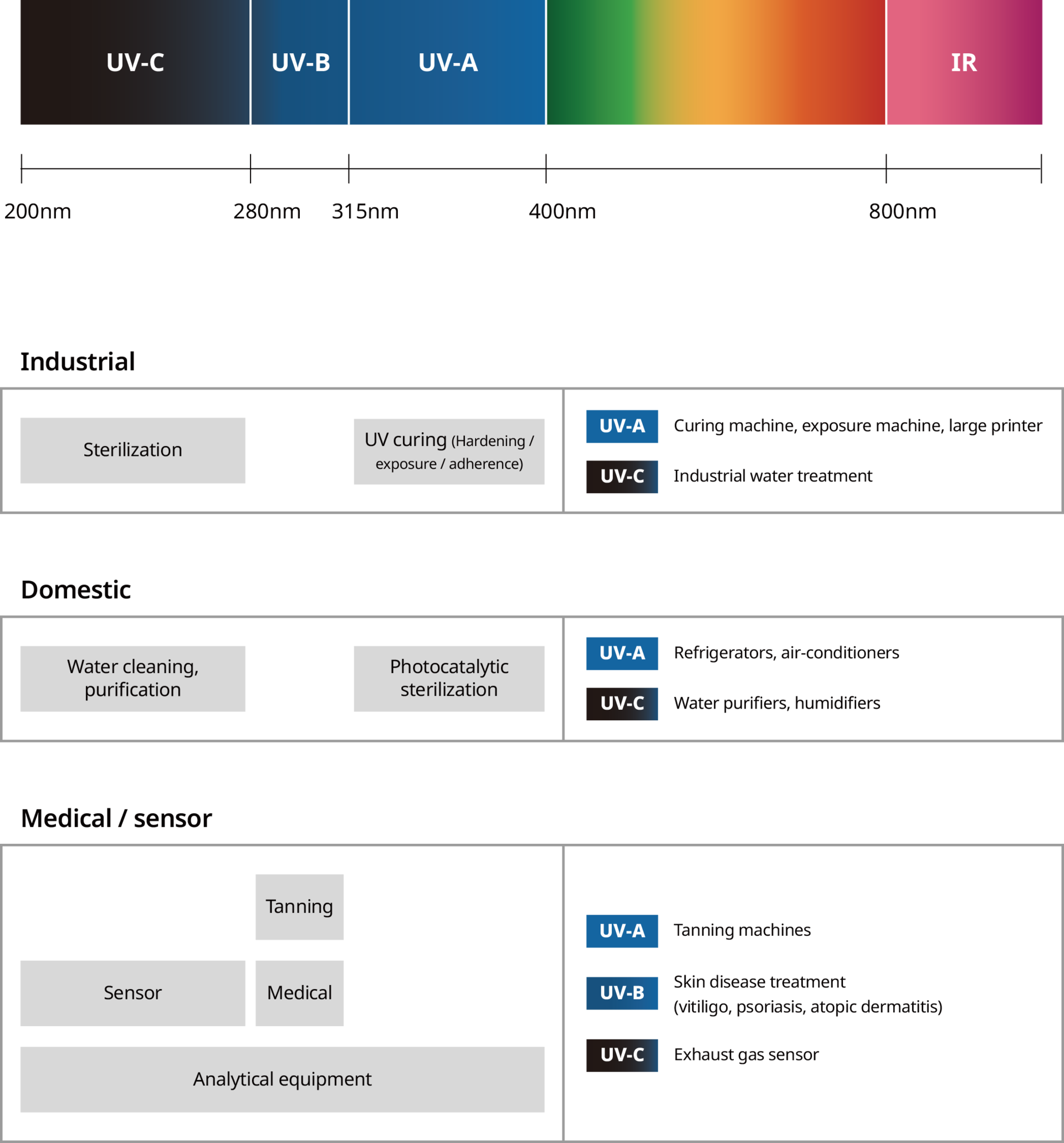 ---
Plasma Specification
---
| Sortation | Content |
| --- | --- |
| Input voltage | 12V |
| Current consumption | 28mA |
| Power consumption | 0.4W |
| Output power | ~5.5KW |
| Ionic generation | (+) Ion > 1million/cc, (-) Ion > 1million/cc |
| Ozone generation | 0.002ppm (Indoor Recommendation Standards 0.06ppm/cc) |
| Manufacturing country | Made in Korea |
---
UV LED Specification [UV-C]
---
| Sortation | Content |
| --- | --- |
| Input voltage | 12V |
| Current consumption | 40mA |
| Power consumption | 0.48W |
| Wavelength | 280nm |
| Luminous intensity | 400mcd |
| Manufacturing country | Made in Korea |
---
Outside components
---